I will never again be as young as I am right now! Fifty-five years. 55... Two 5s. Wow!!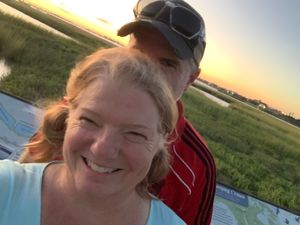 It's a lovely number. It's a beautiful thing to live to be 55. I'm grateful. I am happy. I try hard not to grow up, just ask my boys and the hubs. <grin>
I've done a lot in these years that I've been gifted, and I desperately LOVE adventures. I truly enjoy exploration - new experiences, new places, new people ... all of it!
My 55-B4-55 Birthday Challenge comes to a close today, and I celebrate with my new single (the 5th this year)  "Searching For A Dream." I've been working on this one for 2 years? More likely 3! A long time, anyway. It was one of those songs that took awhile to settle. It came in fast, in the car while driving to a work meeting in Round Rock. I was on I-35 and I just started singing the chorus... words, melody downloaded and into the world. What a cool experience. I'm pretty sure that I paid little attention in the meeting with the song dancing in my brain.
So, why did it take so long?
I wanted to get it right. I had to. There were several lines that were gnawing at me, that hung around in the back of my head. I sang it for Mary Gauthier and Eliza Gilkyson at a songwriting conference. Eliza said, "That's a bonafide song!" which made me blush. Mary loved the chorus, but they wanted me to work on two lines in the first verse. So, I did. And it took a long time, a year or two, for me to be willing to let go of the original lines. Once I finally did, I realized, that it's definitely more interesting. The other lines that had been badgering me, followed thereafter. It was time for the music. I wanted it dreamy, and Eddy Hobizal and David Pulkingham, took it to the stratosphere. I love it. They took my vision to a whole 'nother plane. I can't say enough about it. You'll hear it – geniuses, both of them.
So many of my songs have autobiographical elements. Some are completely autobiographical, but I didn't feel like this one was... at first. I could think of people I knew who were exactly this song, but the more I sat with it, the more I saw pieces of myself. I do tend to look for the next adventure, sometimes to the detriment of my enjoying this moment, the right now, which is really all there is. The images of the tall grass, trees, mountains, streams, and night sky move me. I picture them in my head and something stirs inside my chest. I long to be there. Those places are magic to me. Those are the places I go to dream, and dream of. I can get lost in the dark night sky as if it were home. Even as a child, I can remember finding my horse, Butterball, out in the pasture and just climbing on her back while she grazed. I'd just lay back and watch the clouds, listen to her munching, and all the noises of nature. Insects, birds, the other horses, the sounds their tails made as they swished at the buzzing flies, their feet in the grass, their breathing. . . and I'd daydream, perfectly at peace.
Here it is, "Searching For A Dream", on my birthday and right on time – just as it's meant to be.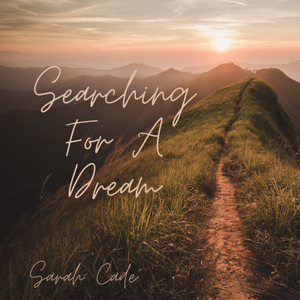 In gratitude, joy, and adventures!
Sarah Cade