My weird, mostly accidental, magical, and wonderfully winding path toward music started with a birthday challenge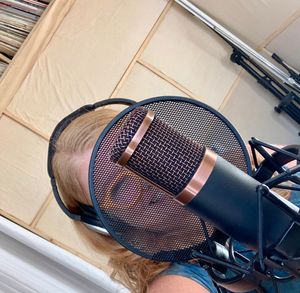 almost 5 years ago. That simple, self-imposed challenge that included taking voice lessons from Merrily Garrett, has changed my world - my trajectory! It brought beautiful people into my life and sparked a deep passion for songwriting, which, by the way, wasn't even on my list! Time disappears when I write and sing;  the act of creating something out of  nothing, always fills me with wonder and an overpowering feeling of gratitude. It's as if I've just had a miracle come through me. Those moments connect me to everything, to all that is. I love that place. Music was the best birthday gift I have ever given to myself. Now it's an everyday gift, and it keeps on giving!
So, last year, I decided to treat myself to another birthday challenge! I had a full year that will end at the end of August, to achieve a few things!! I hoped to look back and see a year full of scary, beautiful,
inspiring, hard, joy-flinging, eye-opening, door-opening, heart-expanding, lesson-learning, life-enhancing experiences! Well, the past year has been all of those things, and a few others too. Some of the goals I put forth with high hopes that life would resume and bring back the pre-pandemic freedoms we'd all been missing. Alas, some of my goals just couldn't happen, and some just didn't happen. I recognize the difference! However, I never go into these challenges thinking I'll achieve ALL of my ideas. That's not the point! I did a whole bunch of things that I had never done before. I've written more than 55 songs! (That one still blows me away!!) I paid special attention to trying new things, and though I wasn't great at keeping track of that category, I definitely did more than 55. I made connections and friendships like crazy, despite the plague. So as I round the corner into my home stretch toward my birthday, I'll release at least two more singles, and look for new things, new places, and new experiences to enhance my time on this planet! And on my birthday, I get to celebrate it all!
Here's the list: 
Write 55 Songs (they don't all have to have music or be "keepers")  
Redhead Blue 
Untame My Heart (Karen Novy – co-writer) –

RELEASED!!

 
When It's Time (Karen Novy – co-writer and she just put down vocals!) 
Misogyny, Hypocrisy 
The Last time 
I Don't Mind 
Cowboy On Spring Street 
I Hear Tears 
Sure Enough's Not Good Enough 
His Love 
No Choice 
Help Me Stay Gone 
Impossible Choices 
The Song of Forgiveness 
Sweet Dreams -

RELEASED

Crying, Crying, Crying 
No More 
Inmate 60624 
Love is What Remains (Karen Novy - co-writer, Sue Paine Luther - co-writer) 
I Need Your Heart (David O Cooper - co-writer) Demo by Adam Fears 
Yes, Please! (Children's Song) 
Candle In the Window 
Normal Ain't Normal 
Odd Duck (Children's Song) 
Stories About Strangers 
Unfriend 
I Listen Now 
When I'm Finished Loving You 
Rock-A-Bye Roisin 
What I'm Looking For 
You Say That Now 
Ready, Set, ...! (Sarah Peterson - co-writer) 
When You Love Someone This Way 
Wonder-Full and Free (co-write with Karen Novy)
Life Keeps Getting Better 
He's My Baby 
When You Look At Me That Way 
Now's The Time (David O Cooper - co-writer) 
Watch Love Grow (Co-Write with Karen Novy- she just recorded vocals!!) 
If You Loved Me Too (Co-Write with Lyn Koonce) 
Tiny Moments (Co-Write with Sarah Peterson) 

RELEASED!!

Austin Saturday Night 
Roots To Boots (Co-Write with Sarah Peterson) 
Zephyr Rides a Hardtail 
Masterpiece Across The Sky (Co-Write with Lyn Koonce) 
I Know 
If You Aren't Failing 
When The Piney Woods Burned Down 
Flying High Now 
That Was Before 
Cliche Song
Not Gonna Tell You (co-write with Lyn Koonce)
Living This Lie (Co-Write with Lyn Koonce)
It's The Only Way I Know (written with Lori Horvitz)
Everyday Joy
Slow Dance Now (co-write with Karen Novy)
Romance Novel
Gone Pearshaped (a wee Irish tune)
I'll Walk You Home
Mirror Mirror / The Way This All Would Go (with Sarah Peterson)
Release 5 Singles 
Jumpin' Jesus -

Released

 
Untame My Heart -

Released 

Sweet Dreams -

Released

Tiny Moments -

Released 

Searching for a Dream - Releasing

ON MY BIRTHDAY
Visit 5 New State Parks 
Visit 5 National Parks 
Hot Springs National Park, Hot Springs, AR
Kings Mountain National Historic Park, Blacksburg, SC
Aransas National Wildlife Refuge, Austwell, TX
Visit 5 States 
Oklahoma 
Arkansas 
Mississippi
Georgia
North Carolina
South Carolina
Tennessee
Alabama
Louisiana
Read 5 Books (real hold in your hands books) 
Daisy Jones and the Six (***) Interesting format. I had to look it up to be sure it was fiction! 
The Heart's Invisible Furies (****) 
Read/Listen to 15 Audio Books 
Warbreaker by Brandon Sanderson (*****) 
Luster by Raven Leilani (***) 
You Are a Badass at Making Money by Jen Sincero (****) I want to go drink a beer with this woman. 
Ink and Sigil by Kevin Hearne (****) 
You Are a Badass by Jen Sincero (****) 
One Minute Out by Mark Greeney 
The Vanishing Half by Britt Bennett (****) 
Blood Song by Anthony Ryan (****) 
Anxious People by Fredrik Backman (*****) He's written several of my favorite books. They stick with you. 
Bear Town (****) 
Trespasser by Tana French (****)
The Authorities by Scott Meyer (***)
Evil Has a Name by Paul Holes (*****)
Odd Thomas by Dean Koontz (****)
Before We Were Yours (****)
War Shadows by Brian Andrews, Jeffrey Wilson (****)
The Nowhere Man by Gregg Hurwitz (****)
Tier One by Brian Andrews and Jeffrey Wilson(****)
Nothing To See Here by Kevin Wilson (***)
Orphan X by Gregg Hurwitz (****)
Ready Player 2 by Ernest Cline(***)
The No. 1 Ladies Detective Agency by Alexander McCall Smith (****)
The Fold by Peter Clines (****)
 Paper and Blood, by Kevin Hearne (***)
Write 55 Letters (26 so far) 
15 to friends 
+11 to strangers for More Love Letters 
Learn 5 of my songs on Guitar 
Redhead Blue 
Let's Just Sing 
Learn 5 Songs on the Piano
Tiny Moments 

Gypsy With Me
Play 5 gigs 
Sell 5 Paintings 
ohhhh well... someone wanted to buy one, but I just gave it to her. (hahaha) that's the way I roll.
Take Art Welding Classes - I've got information from ACC about classes!! 
Volunteer  
Joined the Bastrop Parks Board
And, I donated to our local foodbank often during the pandemic.
Try 55 New Things
(I didn't write it all down, but I did it!! )
Velvet Taco Restaurant 
Virtual Yosemite Songwriting Retreat (****) loved it! 
Virtual Open Mic at Yosemite Songwriting (got through it!) 
Virtual Tin Pan South Songwriting Seminar 
Ola Maie Take-Out (meh) 
Emapanada Trailer at S 1st and Oltorf (meh) 
Coffee Dog in Bastrop 
Mrs Johnson's Bakery Bastrop  
Camping on the coast in our camper Sargent Beach RV We stayed for 5 days and really enjoyed the laid back, quiet strip of coastline 
Tried Carne Lenta in Smithville, TX (pretty good, not my favorite tacos ever, but lots of meat and homemade tortillas!) 
Glass Blowing: I took a one-on-one, socially distanced, open-air studio, glass blowing session at Lost Pines Art Center. I can see how this art could get expensive and addicting very quickly. I would be happy just blowing spheres. There's something magical about glass! 
Biderman's Deli 
Sister's Songwriting Retreat (virtual retreat based in Sisters, OR)
Paid Adam Fears (country artist) to cut a demo of our song "I Need Your Heart" in a Nashville Studio. Virtual in-studio experience, but super fun! 
Retire!!! November 2020 - I've never done that before, but holy **** it's exactly what my soul needed!